The Court that honored our ADA last year may take it away this fall
Attorney Steve Gold addresses rally for the ADA on May 12, 1999. Photo by Tom Olin.
There are two smart things you can do to change this bad news to good. See below.
from communications with Bob Kafka

While we spend this summer celebrating the ADA's anniversary, that same civil rights law could be ruled unconstitutional by the Supreme Court this fall.
The Court in the case of Garrett v University of Alabama will answer this critical question: Did Congress overstep its authority when it passed the ADA? Arguments will likely be heard in October, with a decision issued in early 2001. If the Court rules against us, it could be a major step on the road to gutting the ADA. Recent Court cases on states rights -- and this is another -- have not been in our favor. Garrett is a direct attack on our civil rights.
Right now we can build our legal case and send a political message -- "Don't mess with the ADA!" You can prevent the Attorney General in your state from signing onto Hawaii's amicus brief against the ADA. Minnesota's AG is writing a pro-ADA amicus brief. That's the one we want states to sign onto. As we learned last year with Olmstead, states CAN take their names off the Hawaii brief even after the Court has heard the case.

The sky is falling again in Garrett v. U. of Alabama
from Mark Johnson
At issue in the Garrett case is whether Congress had the constitutional authority under the Fourteenth Amendment to enact the ADA. If the Supreme Court says it did not, individuals (such as L.C. and E.W. in the Olmstead case) may no longer enforce Titles I and II against states. The Olmstead decision would be lost, and unenforceable.

Recently the Court held, in Kimel v. Florida, that Congress had no authority to apply the Age Discrimination in Employment Act to the states. The Court called the ADEA "disproportionate" and an "unwarranted response to a perhaps inconsequential problem."

If states-rights advocates win this case, states would no longer be required to make their buildings, schools, courtrooms and services accessible. States could also refuse to hire or provide reasonable accommodations to employees with disabilities.

What to do about it

from email by Bob Kafka and others
1. Get your state's attorney general to sign onto Minnesota's amicus brief in the Garrett case. Start by calling his or her office and talking with the public servants he or she employs. When you get an answer on where that office stands, organize from there to support or resist your state's stance.
2 . Promote the October 2nd Freedom March and Rally in DC. This is being coordinated by the American Association of People with Disabilities (AAPD) and has a host of national groups working to make it successful.

The Supreme Court session opens on October 2nd and they will hear the Garrett case soon after.

The disability community needs to show its support for the ADA on October 2nd. Bob Kafka and others believe that we should shoot for 50,000 people with disabilities in DC. This is only an average of 1,000 people per state.
Rallies and marches in and of themselves won't save the ADA but it would be a show of power and energize people as we go back to our respective states. Your support would be appreciated.

See you on the 2nd!!

That gray-bearded old Moses guy speaking at the US District Court's steps in Arkansas last year to save the ADA is Bob Kafka. Photo by Vikki Stefans.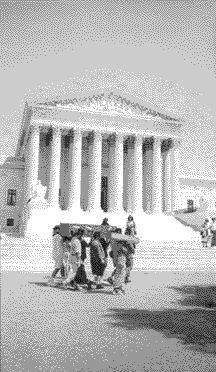 For the Olmstead case, Adapt activists carried a coffin for our ADA freedoms to the steps of the Supreme Court in May, 1999. Photo by Cal Grandy. See more photos below.
Below are photos by P.Sue Kullen from the May 12, 1999, rally for the Supreme Court's hearing of the Olmstead case. With 4,000 participants, it was the largest disability rights gathering in history. Some called it "our Woodstock." A crowd of 50,000 would wake up the whole wide world.