Kyle Glozier outguns
Dirty Harry with
touch-talker
Kyle Glozier testifies as Clint Eastwood suffers in silence. Photo by Tom Olin.
Armed with only an assistive device to make himself heard,
13-year-old Kyle Glozier of New Freeport, Pennsylvania, triumphed in a testimony showdown against Clint Eastwood at a May 22 congressional hearing. (See his testimony, below.)

Eastwood spoke first at the hearing, in favor of the ADA Notification Act, a proposed amendment to our primary civil rights bill. The amendment, sponsored by Rep. Mark Foley (R-FL), would have required that a ninety-day notice of intent to sue under the ADA be given to inaccessible businesses. The hearings were held by the Judiciary Committee's Subcommittee on the Constitution in the U.S. House of Representatives.
Eastwood, whose Mission Ranch Hotel in Carmel, Calif., has been sued for ADA violations, called its enforcement "a form of extortion."
Janine Bertram-Kemp of the Disability Rights Center in Washington, D.C., said that the disability community "came together powerfully and perfectly. NCIL, Adapt, NAPAS, AAPD and others all worked together."

Bertram-Kemp said that Eastwood may be "starting to feel he made the wrong choice. I don't think he's used to being hissed at by a long line of folks with disabilities." Activists from seven states packed the hearing room and the congressional hallways.
Photographer Tom Olin told Mouth that Glozier, who testified after Eastwood, "stole the show. Like always, he's right to the point. You could tell Eastwood wanted to pat him on the head. Kyle wouldn't let him get that close."
Rep. Foley, admitting he took "a public relations hit," proposes to amend his amendment. He now describes a "potential new ADA Guidance Act" which would "show people my heart is in the right place."

The chair of the Subcommittee, Charles Canady (R-FL) called for "further investigation" into the issue. Canady investigated national Right to Die legislation after Not Dead Yet testified against it in hearings before his subcommittee in 1998; he then voted against a measure which was to have given physicians a legal right to kill people who are ill or disabled.

Kyle's testimony, as reported in Ragged Edge:
When my grandpa died last year
and I went to the funeral, I had to be carried up and down the steps because the funeral home was not accessible. My family talked with the funeral director and told him about the ADA and how he was violating my civil rights by his building not being accessible. He promised that he would make it accessible.

My grandma went and checked on this a few months later to make sure the funeral director kept his word, and he did. He installed a lift so that other people who use wheelchairs would not have to be carried up the steps.
I feel that this bill that Mr. Eastwood is lobbying for is a bill that was designed to weaken the ADA and take away the civil rights of people with disabilities. Doesn't he understand that the ADA has been in place for ten years and that if you renovate a building you must make it accessible to people with disabilities?

He failed to do that and now wants the Congress to support him in his failure to comply with a law that is clearly written.
It's already bad enough when I go on field trips with my school. I always have to be segregated from my classmates to enter the building that we are visiting. Why are people with disabilities singled out as the only class required to give advance notification of the violation of their civil rights?

I am a member of the public and I have rights too!
To send fan mail to Kyle Glozier for saving our ADA, address him through the Center for Independent Living where his dad, Jim Glozier, works. The address is
Kyle Glozier
c/o Jim Glozier
TRIPIL
69 East Beau Street
Washington PA 15301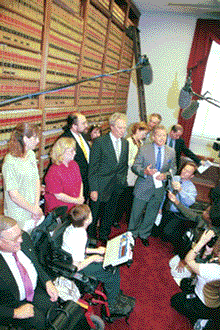 Kyle, his mother Laura (behind him, in the green blouse), Adapt and the media meet Eastwood in a congressional corridor.

Marcie Roth of NCIL and Janine Bertram-Kemp of Adapt share a hug with Kyle after his testimony. Photos by Tom Olin.