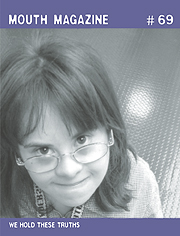 WE HOLD THESE TRUTHS.

volume 12 number 5 january/february 2002.

---
Note: Some samples available here are files in accessable PDF format and will be tagged as such; otherwise, pages are barebones and accessible as I know how to make them, in html. The PDF files are no longer than three pages, but nonetheless may require a long download wait for those with slow internet connections. If you don't want to miss out on much incomparable Mouthiness, subscribe. Back issues are available through our Attitude Store. Should you wish back issues in alternate format — tape or large print — or to subscribe offline, call Cal at 785-272-2578, or write Mouth, PO Box 558, Topeka, KS 66601-0558.
WE HAD TO LAUGH
Arthur Lyons and Jason Hardy inquired, when we asked them to write about disability poverty, what was our editorial approval system. (!) We told 'em to just give us deep truth in plain language. They delivered,(pdf) page 24.
Josie Byzek took a year off street activism to inquire into the soul of civil disobedience and nonviolence. We believe that her article, (pdf) page 16, asks some tough questions. Please let us hear your own answers.
REGULAR AND IRREGULAR FEATURES
Power News
Supreme News
Dispatches
Media Freak, Quick Bites, Flashbacks
Mouth House, sorta
ReSources
Friends Forever
The Attitude Catalog (website)
WE HOLD THESE TRUTHS
Josie Byzek wants to know (pdf) What's Wrong with this Picture?
Jason Hardy and Arthur Lyons are (pdf) Re-Thinking the War on Poverty.
Barb Knowlen engages in Deception Detection.
Billy Golfus recounts The Life and Death of a Mere Mortal.
Ed and Toni Eames find Unexpected Truths.
Billy Golfus reminds us: Freak Sex Banned.
Two mothers bring you Mother Truth.
An anonymous reader reveals that Mouth Will Never Be Popular.
Lucy Gwin relays some truth about advocacy with In a Race with the River.
---
© CONTENTS COPYRIGHT 2002 FREE HAND PRESS, INC.
4201 SW 30th Street Topeka, Kansas 66614-3023
ISSN 1071-5657
Member of the Independent Press Association and Support Coali­tion. Indexed (somewhat) by the Alternative Press Index.
Editor-designer ...... Lucy Gwin
General Officer ..... Cal Grandy
Reports from ... Sarah Triano, Billy Golfus, and a number of Kansans
Clipper............... David Anthony
Voice .............. Marcia Yaroslow
Heroes........... our friends forever

Reporters, artists, photographers: We want your work but just like crime, Mouth doesn't pay. If you'd like to take part even under those wretched conditions, please mail us samples and your phone or fax number to introduce yourself.
Back issues: $4 and up, cheaper by the dozens for trainings. Recent editions are available in quantity. To buy them, or to help keep Mouth afloat, call Cal at 785-272-2578 from 1 to 6 pm, weekdays. Do not call or email Lucy. Reach her by mail, or fax her at 785-272-7348.
| HOME | ABOUT MOUTH | SUBSCRIBE |