One human right canceled
— Your right not to be born has just been cancelled. After France's supreme court ruled that the parents of a kid with disabilities should be compensated because doctors didn't warn them in time to abort him, the French Senate leapt into emergency session and aborted the ruling with new law.
BackStory: Turns out the kid has been institutionalized since age two. His mom needed the millions in damages to pay her shrink bills after she had a little crise de nerfs over spawning a monster.
"Parity" Bill dies in House
— The U.S. House rejected a Senate bill to provide "equivalent coverage for mental health." Had it passed, shrinks could have billed as much for imprisoning one of us as surgeons do for open heart surgery. So, whew!
New Hypocrite's Oath
— A committee of doctors from the U.S. and Europe has drafted a Hippocatic Oath for the HMO age. Among its principles: "Patients' decisions about their care must be paramount." Then there's one or two about money: "Altruism contributes to the trust that is central to the physician-patient relationship." Physicians, it says, "must promote justice in the health care system, including the fair
A GOOD RIGHT TO LOSE
distribution of health care re-sources." Don't look for these improvements in a doc near you any time soon. The AMA has yet to weigh in with its own version.
Watch them websites
— There's probably more than one website which looks like an online support group but isn't. Still, we take special umbrage when a drug company's P.R. jagoffs trot one out in cute kiddo handwriting to push pills on kids dis-labeled as ADHD. Watch out.
There's a word for it
— Here's a new one for the lexicon. A business ethics special­ist notes that some hijinks "won't pass the ethical stink test."
cartoon characterizations of dis-labeled on the rise – see more next page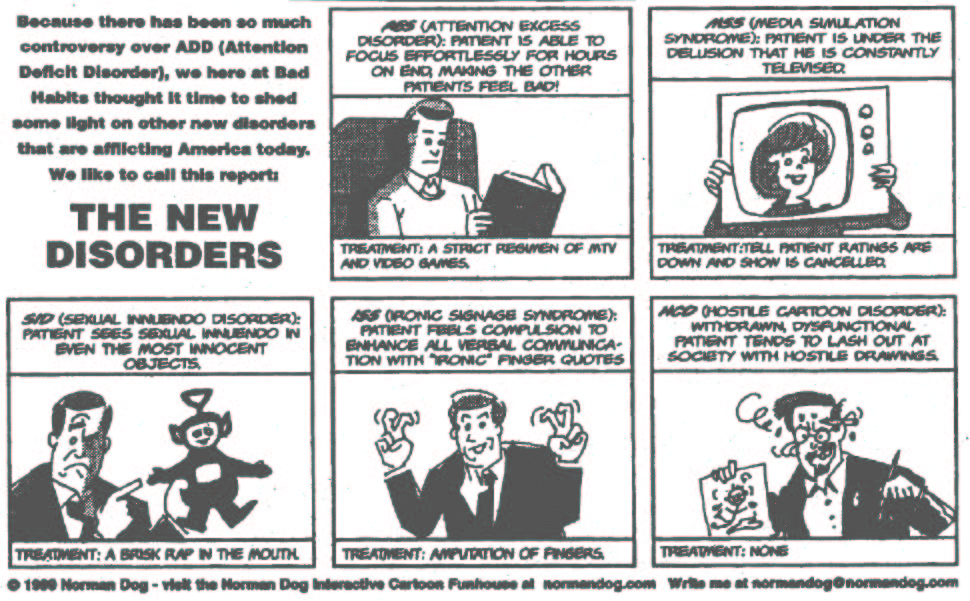 CLIPPED FROM FUNNY TIMES OF NOVEMBER 2001
MOUTH MARCH -APRIL 2002 PAGE 9