PAY NO ATTENTION TO THE MAN BEHIND THE MIRROR

by Larry Biondi
ittle did I know I was being monitored while I sat in a small room, talking to my mother. Then, on the other side of a two-way mirror, I caught sight of a light flickering. That tipped me off: I was on display, the do-gooders grabbing at how I spoke my every word.
I was just eight years old, but still smart enough to know it was the professionals watching.
Later they complimented me for realizing that someone stood on the other side of the mirror, watching. Judging.
These professionals were speech pathologists who were — pardon my French — studying my speech patterns and cadences. Their job was to fix my speech. The irony was, one of the pathologists was also disabled, with one short arm.
Growing up, attending special schools, I noticed how the medical experts treated me and my fellow students as experiments. One kid in my elementary school class, Sally, underwent several operations to correct arm and leg contractures. They wanted to fix her, like she was broken or something. Her parents put her through those operations even though it didn't help her any; it only helped the expert's pocketbook. They didn't ask Sally if she wanted those operations. I bet her answer would have been NO!
Therapists at my grammar school tried me in an experimen­tal wheelchair. This chair looked scary, man, with a whole bunch of straps and pulleys. The purpose of the torture contrap­tion was to "improve my CP." There were
straps to tie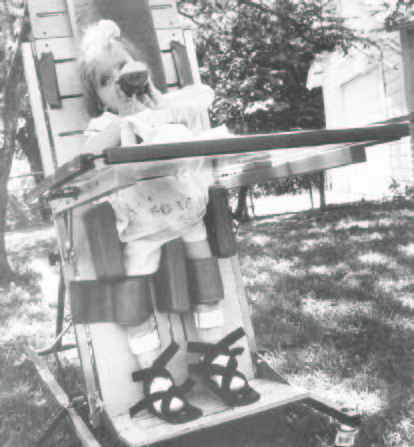 THIS PHOTO, CLIPPED FROM LIFE MAGAZINE OFdown my spastic 11/95, WAS CAPTIONED, "TO STRENGTHEN HER feet, and pulleys BONES, THIS VICTIM OF SPINA BIFIDA..."
to control my
arms so that I
could feed
myself. It looked like the to see and pity.
Chair, the electric chair. That slimehead Jerry
I was the guinea pig in Lewis does this annually with
the Chair for about two days, his pitython, spewing out
persistently protesting that I bigotry. "If you're in a wheel-
wanted my old chair back. In chair and don't want to be
the time since then, I've never pitied, then stay at home!"
seen a chair like that in use. Boy, would I love to see Jerry
Thank God! in that experimental chair. He
Professionals want to might not like it, but of course
experiment. Maybe they think it would be for his own good.
they'll be the hero who
figured out how to fix us. In Larry Biondi works at
the meantime, they put us on Progress Independent Living
display for the whole world Center in Forest Park, Illinois.
I caught sight of a light flickering on the
other side of a mirror.
MARCH -APRIL 2002 MOUTH PAGE 17