murder by ethics
---

Most hospitals have by now set policies on how much care is "futile," therefore unnecessary, when a patient is believed incurable. The Hospital at the University of Pennsylvania looks to adopt a policy of not providing "aggressive treatment" (examples: a ventilator, an appendectomy) for people in a "persistent vegetative state."
As with "brain death," there is no medical test for such a state. Even so, the ethics committee co-chair for that hospital comments that "there are certain types of injuries people suffer where one should acknowledge the tragedy, realize that chances of recovery are negligible, and... " l.g.
page · mouth magazine
---

dispatch
a budget of zero
ohio cancels independent living;

only one complaint
---


from Dimenet

by Roland Sykes

Ohio has become the first state to propose that all funding to Independent Living be eliminated. Governor Robert Taft's proposed 2004 budget includes zero dollars for independent living centers, zero for the State Council on Independent Living.

From over a million in state and federal funds to zero. Since federal matching funds for I.L. are paid only if the state does its bit, bing, we're out.

Back in 1999, after the national Adapt action in Columbus, Gov. Taft's representative, Greg Moody, told us that they would "take all your money as soon we can." Looks like they feel now is the time.

Our SILC seems to still think it was just an oversight, that Ohio's Rehab Services Commission and the governor's office truly have our best interests at heart. We have so far heard only one protest, from the SILC's new director, William Olubodun. He calls it an "oversight," then a "critical and catastrophic error," citing the 6,000 people served by Ohio's ten CILs.

All but two of those centers are
adapt paid a call on the governor of ohio in 1999. now it's payback time. file photos by tom olin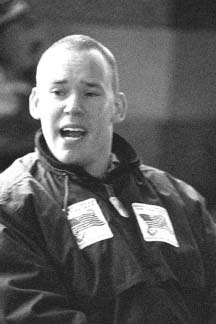 under the direction of non-disabled people, social workers by trade. They don't have a clue about mobilizing their constituents, organizing in the streets.
So all I can say is this: Watch out for the death of IL, coming soon to a state near you.
more ohio news
---

Gov. Bob Taft now proposes to close one or more of Ohio's "developmental centers." Mouth notes that he didn't say the same about group homes, a thriving industry which donates, and heavily, to his political campaigns.
Kenneth W. Ritchey, who
directs the department in charge of state DD 4institutions, said, as if puzzled, that "more residents want to leave than want to get in."
No shit, Sherlock.
---

as others see us: obsessed with parking



clipped by david anthony from the denver post
march - april 2003 · page
---

this just in
medicaid changes: from worse to worser
---
The breaking point
While the cost of Medicaid rose nine percent this year, states faced more than $60 billion in deficits. Now 27 states expect to tighten Medicaid eligibility, 45 plan to reduce benefits, 17 plan to raise co-pays, and 37 say they will cut payments to providers and for prescription drugs.
In the home-care arena, many states no one has yet counted how many plan to cut the number of hours per week that services are provided, even though they cut service hours last year, too. Some states are taking certain durable medical equipment, ventilators, for example, off the list of what they will fund in at-home care.
A mother, Roslyn Hawkins, told the Orange County Register that her family cannot afford to buy the $38,000 in medical equipment keeping her two sons alive, equipment which will be removed from her home under the state's planned cuts to Medi-Cal. "I've been through a lot," she said, "but this is the scariest it's ever been."
The Kaiser Commission on Medicaid and the Uninsured agrees. It surveyed 50 states and found cutbacks in all but one, Alabama. The Medicaid program serves 42 million poor, disabled and elderly Americans, one third of them children.
Medicaid is a target since it uses one of every five state tax dollars. What's more, its constituents are poor and not organized to defend themselves. Adapt is the only group that organizes Medicaid recipients.
"I've been through a lot, but this is the scariest it's ever been."
Olmstead rulingthat citizens at the state's mercy, if entitled to state-paid services, must receive those services "in the most integrated setting." States ignore it because no federal agency enforces it.
The feds say they're using carrots, incentives, rather than the sticks of enforcement. Take a look at some very small carrots:
Only seventeen states tried for five federal Medicaid Systems Change grants, a total $70 million carrot. Those grants, we believe, brought fewer than 500 Americans out of handicaptivity. Worse, not one single Medicaid system has changed so that the money follows the person.
Now the Bush administration proposes to issue another $40 million in System Change grants. Whoopee. l.g.
Now Medicaid gets 'flexible'
President Bush announced in February that he plans Medicaid Reform, following what Republicans call the success of Welfare Reform. "We need to be creative," HHS Secretary Tommy Thompson said, "and flexible."
"Flexible" is code, according to Families USA, code for "getting rid of guaranteed coverage, increasing premiums and out-of-pocket costs, reducing benefits." "Flexible" looks to Mouth like a new push for an item on the old Gingrich agenda, Medicaid block grants.
Eligibility determinations would, the administration said, be "simplified." Watch out.
Carrots, not sticks
So far, states have ignored the Supreme Court's 1999
adapt will march to d.c.
---

To protest against people with disabilities being forced into institutions and nursing homes, Adapt will march 144 miles from the Liberty Bell in Philadelphia to Capitol Hill in Washington September 4 to 17. That's a long march, all in support of MiCassa, the bill which would make it possible for Americans to get support services in their homes and communities. A mass rally at Congress will follow the march.
Connect with the Free our People March on its website, www.freeourpeople.org and through its co-chairs, Bob Liston (at bob@freeourpeople.org) and Nancy Salandra (at nancy@freeourpeople.org.)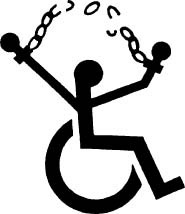 page · mouth magazine
---
why not freedom?
---

Washington state lawmakers, preparing steep Medicaid cuts, heard their own staff analysts tell how to cure the state's entire budget deficit for five years or more by selling off land on the "campuses" of five state-run institutions. Those sales would net $15.7 million.

The state would save even more, the analysts said, in a switch from institution to in-home services. More than 1,000 people are today detained in Washington's centers for the crime of being disabled, this in spite of the fact that freedom is cheaper than captivity a full two-thirds cheaper in the aggregate.

Pennsylvania reported progress and savings from its PATH project, a nursing home to real home transition program. Advocates assisted nursing home residents who wanted freedom and got funding, if needed, for some moving costs, rent and utility deposits.

Since Pennsylvania is one of the states that pays nursing homes for beds whether they're empty or full, it has little to gain from moving people with disabilities to freedom. The future for this federally-funded demonstration project look slim.

Nevada, an ally to Tommy Olmstead in that Olmstead case, proposes to spend $32 million for a 150-bed psych institution in Las Vegas. At a hearing on the subject, state Senator Sandra Tiffany inquired of the governor's man whether that plan meets the terms of the Supreme Court's Olmstead ruling.

When he answered that the proposed hospital constituted a "core state service," the senator snapped back, "That's mumbo-jumbo."

Ohio, says a February Columbus Dispatch editorial, "cannot afford to subsidize 14,000 empty beds in nursing homes throughout the state." Each one of those empty beds costs taxpayers $55,538 annually. The Dispatch criticized state legislators for "lacking the political will to vote against an industry that contributes so mightily to campaign coffers."

And since empty beds cost the state $777 million annually, we're not surprised bureaucrats prefer to see them full.


photo of michael reynolds by p. sue kullen
lilly to lose a plum
---

Families who sued drugmaker Eli Lilly over the mercury in its vaccines an apparent cause of autism had their cases dismissed by an Oregon judge. He noted that the nation's new Homeland Security Act made Lilly retroactively immune from such suits. That cute amendment to the Act was seen by many as a bouquet from the GOP to the drug industry for lavish campaign funding.
The deal was a done deal until John Moyers, editor of the on-line public interest journal TomPaine.com, offered a $10,000 reward to anyone who would tell him who brokered the Lilly deal.
Republicans trampled one another in their rush to say It wasn't me! Senator Olympia Snowe (R-ME) called both amendments "egregious and unacceptable." Republican leaders now promise to undo the damage with another amendment, to a current spending bill. Meantime, those same leaders are working up a bill to create federal incentives for the research and manufacture of new drugs.
march - april 2003 · page
---

quick bites
from the brown bag
demonstrated his revolutionary new "exit bag" technology at the Hemlock Society conference. It's a tough plastic bag with a drawstring. Pull it over your head, draw the string, knot it, and there you go. All better.

New Drug Epidemic

· The New York Times reports that two to three times as many kids and teenagers were taking psychiatric drugs in 1996 as in 1987. Ritalin was tops on the list, followed closely by antidepressants, but anti-psychotic prescriptions are gaining on them both. Could it be that we're driving kids crazy?

Gene Therapy Backfires

· The second of fourteen kids in a French trial of gene therapy for "Boy in the Bubble" disease has come down with a rare form of leukemia. So it's definite: a new leukemia has developed from the genetically-modified retrovirus used to insert the genetic "cure." The Food & Drug Administration has halted 27 gene therapy trials in the U.S. for now.

Service Monkey OK in NYC

· The New York City Department of Health has allowed Steven Seidler, a wheelchair user, to keep his service animal, Darla, a macaque monkey.

Human Experimentation

· It must be some kind of experiment or something," the homeless woman told Kim Hopper, "to see how long people can live without food, without shelter, without security."

That's a quote pulled from Hopper's new book from Cornell University Press, Reckoning with Homelessness. Homelessness emerges from what he calls "an unmysterious mix of factors: scarce housing, poorly planned and badly implemented policies of relocation and support, dismal prospects of work, exhausted or alienated kin." Hopper notes another element in that mix: "how misery can come to prefer its own company."

This is an Easy Way Out?

Not Jack Kevorkian but another death enthusiast, Australian M.D. Philip Nitschke,
Reeve Snubbed Down Under

· Just because you're rich and pitiful doesn't make you welcome in the Australian Prime Minister's office. Chris Reeve, a former superman whose visit to that country was financed by the government, got ready to prime the P.M. on the therapeutic cloning of human embryos, but the P.M. was otherwise engaged.

Famous Advocate Fights for Her Own Sons' Inclusion

· What school would mess with Marcie Roth's kids? She's former director of Advocacy and Public Policy for the National Council on Independent Living, today director of the National Spinal Cord Injury Association. But for the last four years she's been locked in battle to get her two disabled kids an education.

"I know the law very well," Roth told the Washington Post, "Heaven help the families who don't know their rights and don't know how much energy they'll need to fight an ugly and lonely battle for their child." l.g.
---

as others see us: falling for pity



page · mouth magazine
---

flashbackS
as we see ourselves: just short of the mark



clipped from family skeletons by david d. whitney, university of nebraska press, 1946
march - april 2003 · page
---
Trust in Authority

---
excerpts from Authority

by Richard Sennett
---

Authority we can trust
is visible.
---

Ideals of democracy that we inherited from the 18th Century are based on the notion of visible, legible authority.

"Visible" means that those who are in positions of control be explicit about themselves: clear about what they can and cannot do; explicit about their promises.

"Legible" specifies how such explicit statements could come about. No person in power can be trusted to serve as his own judge and jury. It is the subjects who have to decide what power means; the servants have to read the masters' actions as if they were trying to make sense of a difficult text. To make power legible is a reading, a struggle.

The citizens are to read together; they are to observe the conditions of society and discuss them with one another. The result of this common effort is that citizens entrust certain powers to leaders, and judge leaders on how well they merit that trust. Jefferson says the conditions of trust are to be entirely visible. The leader may use discretion, but may not be permitted to keep his intentions to himself.

The first thinkers on democracy had immense faith in the rational powers of the
Authority is a bond between people who are not equal.

Without ties of loyalty, authority, and fraternity, no society as a whole, and none of its institutions, could long function.

To be on welfare, to be dependent upon people who are judging your weakness in order to decide how much you need, is an intensely humiliating experience. ... One of the subjects most avoided in our society is the relation between being controlled and being cared for.

The authority without love operates as a parade of benevolence but exists only in the interest of the ruler. It requires passive acquiescence as the price of being cared for.

Domination is a necessary disease the social organism suffers. There is no way to cure this disease; we can only fight against it.

Power between two people is the will of one person prevailing over the will of the other. ... The chain of command is the structure by which this imbalance of will can be extended to thousands or millions of people; it is the architecture of power.
---
page · mouth magazine



And legible.

That goes for its memos, too.
---

human race. Whether or not this faith was misplaced, it is certainly true that they discounted how hard is the work of creating visible and legible authority.

The language of power is often couched in the passive voice, so that responsibility is veiled, invisible. Much can be avoided if a master acts absent. Examples: "It has been decided that..." "It is inappropriate to... "

The passive voice pins the decision down to no particular person, making authority invisible. The passive voice suggests that a command exists in the abstract as a universal principle.

Decisions can be written in the active voice. "Ms. Jones, Ms. Anderson and Mr. Barker decided that..." "Mr. Smith doesn't like it when... " A person who feels aggrieved can address the people who made the decision, appeal to them directly, renegotiate the decision.

An open negotiation about nurturance, face to face, seems to me the most disruptive experience which can occur in a modern chain of command. ... The question is whether people
can lose their shame over their own weakness and avail themselves of the law, of the appeals process.

The evil effects of authority can be combatted not by making oneself less visible to authority but by drawing closer to it. The further away an authority is, the more he or she will inspire fear and awe. The closer we come to the authority, the less omnipotent it will appear. This is the work of demystifying authority. Differences of strength may remain, but the authority is dispossessed of Otherness, of strength which appears mysterious and unfathomable.

From Authority by Richard Sennett, first published in 1980 by Alfred A. Knopf. Excerpted with permission.
---
---

"I had the greatest respect for the

authorities of my day until I studied things

for myself and came to my own conclusions."

Sigmund Freud
---

march - april 2003 · page

Taking Authority

---
by Kathleen Kleinmann
Everything we're doing is

wrong. We've got to do

better, but how?


I face the harsh reality about once a year: that everything we have been doing at Tripil, our center for independent living, is wrong. Face it: We aren't making enough progress towards our mission. We have to change. I'm the director, so I have to be the first to admit our failure.

We aren't doing peer support right. We aren't doing outreach right. Our advocacy just isn't effective. We've got to do better.

That line of thinking gets me in the right frame of mind. Now it is time to talk with the people who work at, and others who are on the board of, Tripil, to get them to admit the awful truth as well. We gave it our best, I tell them, but we missed the mark. I am not looking for a scapegoat. We all own this situation. We all share the responsibility for having created the problem. No more excuses. We have to admit that we have been traveling down the wrong road a while.

Now we are all in the right frame of mind. Before anyone leaves the room with an attack of personal crisis I give them the good news: it's not too late. No one has shut us down yet. Our community members have not yet abandoned us. We can do better. We have learned a lot. There is hope. Now. If we had the chance to start over again, what would we do differently??

Let's spend our time and money differently this year. Let's figure out what would be more fun. What would help us get more people participating? What have we already spent enough energy on and are tired of? Is there a different configuration of staff and procedures
---

we could experiment with? The ideas begin to flow. Let's try some just to see if they work. If they don't, we can always go back. Don't worry this will be fun!

This dialogue goes on for a few weeks and a plan starts to come together. If the people involved don't feel threatened, most everyone is ready to try something new.

Each year we change things. Each year we can also see what we did that really worked and is worth holding onto.

There's not just one way to run an independent living center. By the time I'm done, I will have tried a whole lot of them. I'll be able to tell you all about our mistakes, how we crashed and burned with some big ideas. But I'll also be able to tell you how proud I am of what we have accomplished and who we are. And I will tell you that I think we have the best independent living center in the country. Today I believe we do.

Then comes that day when I admit it's time to start over. Everything we've done is wrong and it's going to be a happy new year.
---
---
"Failing organizations are usually over-managed and underled." Warren Bennis
---

page · mouth magazine
Safe in
the Arms
of Authority

---
Through the looking glass

with Alice in hospital land
by Rus Cooper-Dowda
---

Since I have chronic pain that requires missing no doses of my medication, my concern rose when the nurse said, "The pharmacy wants to know if you will just take an extra sleeping pill tonight so they don't have to get to filling your regular pain meds 'til morning."
Even when I protested, that was the plan. An hour later, the same nurse came in to say, "The pharmacy is not going to be able to get to the sleeping pills tonight either. Is that okay?"
I started praying that one thing one single thing would go right.
The Bloodletting Begins
I told the woman who was about to stick me for blood that I was hard to stick and
When I went to the hospital one evening about a month ago, to get prepped for chest surgery the next day, I checked in at six p.m. but felt so unsafe that I checked out again, against medical advice, four hours later. What could have happened?
Well, for starters, all of my doctor's orders were lost and not once but twice. The staff attempted to re-create them, twice, using my memory (I'd reviewed them, once) because they "didn't want to bother his office after hours."
They lost the record of my pre-admission x-rays, too. Rather than look for the pictures again on the computer, they turned me over to Radiology for a re-do. That department took me from my room three different times. The first two times they got too busy after I arrived.
Things in my room weren't going too well either. I am immuno-suppressed and both my primary nurse and her aide had very bad colds. Nobody masked, gloved up or washed their hands in my presence during surgery prep.
Infection control got even worse after that. They gave me a body shave with a previously-used shaver. The aide was really leaning into the job without having checked to see if she was actually working with a blade. Only when I insisted did she check and find out.
She treated the discovery as a joke.


Do vegetarians
like you
eat hamburgers?
---
march - april 2003 · page


showed her the best places to try. She ignored my advice until she'd stuck me elsewhere, eleven different elsewheres. When she got the blood, I thought I was home free. Then she showed up to do it all over again. Sometime after leaving my room, but before getting to the lab, "my samples were misplaced."

In between runs to Radiology and the bloodletting trials, I fielded calls from Dietary where they asked, "Do vegetarians like you eat hamburgers?" Four calls, same question.

Inside the Vanishing Machine

At that point I decided I'd better confirm pre-admission arrangements for the machine I'd need to be able to sleep. Nobody in Respiratory Therapy had heard of the arrangements, or the machine.

That's when I called my family and said, "Get me out of here. I am not safe."

My husband and son arrived after the head of Respiratory Therapy told me they'd never owned the equipment I'd been told would be on hand. Now he was asking me where they could rent it at ten o'clock on a weekday night. He thought that if I could tell them who to call the hospital might have the equipment I needed by the following night.

That's when we left.

Here's the kicker. This hospital is one of the best in the area and I have to go back there day after tomorrow for the surgery originally scheduled. To say that I am worried is an understatement.

"Behind every state authority

lies the threat of brute force."

Mikhail Bakunin
---

"Someday there will be a world
without authority, without
bureaucracy, without rules, where
there'll be freedom and sharing
and love and I still
won't fit in." Jules Pfeiffer
---

"When you think of the long
and gloomy history of man, you will
find more hideous crimes have been
committed in the name of obedience than
have ever been committed in the name
of rebellion." C.P. Snow
---
---

"If there's anything mean in a feller,
a little authority will bring it out."
Kin Hubbard
---

page · mouth magazine

The Burden
of a School's
Stupidity
---
by Deidre Hammon
Where options are offered
not as a choice
but a threat
I should have seen it coming when the school nurse called to inform me that she is the "Safety Lady." This was last fall, the week before Brianna started her senior year. Safety Lady needed to know about my beautiful 19-year-old daughter's toilet skills. She asked, three times, whether Brianna toilets independently. Yes, I told her. Yes. Yes. Yes.
Here was my chance to request that Safety Lady correct a danger we'd spotted on the school grounds a giant crater in the curb cut out front. Making the usual promises, Safety Lady signed off.
First day of school, the crater still loomed but Brianna maneuvered it with a discreet assist. New school, new hot boys, the girl was lookin' fine.
The girl called after school, humiliated.
"Mom, they potty-trained me!" That night I heard the whole sickening story, how two functionaries took her out of class and... So I did what comes naturally fired off an email demanding an immediate IEP meeting.
Next morning not one member of the Individual Education Plan team could compre
hend why we were so upset. With her nose an inch from Brianna's, the teaching aide wheedled, "That was for me, remember? I said it was for me, so I would be comfortable about what was going on in there..."
"I'm glad she could meet your needs," I snapped. "Surely this isn't disability discrimination! Could you give me a timeline for your evaluation of toilet skills for the rest of the senior class? We can't have them leaving school and doing God knows what in public toilets..."
The nurse blurted out what had motivated the potty invasion: "You wouldn't put what's wrong with her on the medical form!" I'd wondered why Brianna had been issued four such forms over the summer. There is, of course, nothing wrong with Brianna. Cerebral palsy is not an illness but a fact of life. The question on the form had been, "Does the student have a medical condition that prevents
---

march - april 2003 · page

Sweet sing-song vanished,
replaced with Snarl of the Bitch.
---
his/her participation in school?" I answered four times: No. No. No. No.

Now I inquired about the real safety issue and Safety Lady began to bawl. "I don't know what a curb cut is!"

With a significant change in staffing, the meeting continued.

The Vice Principal now addressed Brianna, in that ever popular we-know-how-incompetent-you-are sing-song, pointing out a catalog of peculiarities, painting a magic fairy dust picture of other "schools," segregated programs that might be more appropriate.

"Brian-na," she sing-songed, "I just want to give you some nice op-tions, for your sched-ule, for some class-es, down-stairs." Smile.

I translated the baby talk. "Do you want to move your classes downstairs?"

"No," Brianna said. "I like my classes."

The V.P. was a little less sing-songy this time. "You have the op-tion of moving your classes down-stairs."

I blinked. "Okay, Brianna, it sounds like she's saying you can keep your classes the way they are or take them downstairs."

Sing-song vanished, replaced by Snarl of the Bitch. "You have the op-tion of moving your classes down-stairs."

I held up my hand. "Okay, wait. You're an educator. Educate me with a definition of the word option. I understood it to mean choice..."

The V.P. stared daggers at Brianna. "You have the option of moving your classes downstairs. Or you can go to a different school."

I got between them. "Now that sounds like a threat. Is that a threat?"

The team held its breath. Then Brianna, with an exaggerated stage-lean in my direction, stage-whispered, clear as a bell, "Oh, Gawd. Here we go again."

I busted up laughing, but amused had fled the building. I asked, why were they so willing to screw up her schedule, cast her out of classes where she'd already started to make friends? Did they just not have a spare elevator key?

The V.P. clarified the school's position. "It's a safety issue. There is no 'area of safe refuge' upstairs in case of fire."

Confirming everything they'd heard about me, I fired back. "I believe that's your fucking problem, not Brianna's."

Now the special ed teacher, stunned, weighed in with a whine. "But it really is a safety issue."

"This is a brick building," I smiled, "built in the Fifties. Did you know that there has
---

page · mouth magazine

Amused
had fled the building.
---
Now the V.P. was screaming. "Fine! I'll put it down!"

We never did get that notice. They called the fire department, whose inspector came out that afternoon and designated two classrooms as areas of safe refuge. Our next meeting found the bureacrats crowing about how easy it had been.

One phone call.

They'd harrassed my daughter for nearly two hours because, in the preceding years, no one had bothered to make one phone call. Through the years, as I married, as I begat children and gray hair, kids were being cast out, shipped off in the little yellow lift buses to segregated programs in faraway places, all of them just one phone call short of inclusion. One phone call.

The weight of stupidity is truly crushing. But you know what? We carry on.

never been a single fire in this building? The bottomless pit in the curb cut, on the other hand, is a real and present danger. Are safety issues only safety issues when you say they're safety issues?"

The V.P. spit it this time. "She has the option of moving her classes downstairs. We have no area of safe refuge and that's final."

Final or not, I had to ask. Did they know exactly when they were required to address 'areas of safe refuge'? It was when I was a freshman at this same school. Did they see my gray hair? Did they sense that time has passed? Were they aware that their proposal requires written notice? That said notice must include a description of Brianna's right to a hearing to disagree with said proposal? "And when you write the notice," I told the V.P., "be sure you include the reason you propose the change..."

"I know how to do written notice," she interrupted.

"Good," I interrupted back. "Just make sure it says there is no area of safe refuge on the second floor."

V.P. stood firm. "I am not writing that down."

I turned to Brianna with my best parrot imitation. "What did she just say? No area of safe refuge... no area of safe refuge... no area...
---
---
"God must have loved the People in Power,

for He made them so very like their own image of Him." Kenneth Patchen
---

march - april 2003 · page
Authority
is a Rascal

---
by J. Quinn Brisben
Mr. L was a crook, a liar,
a transparent and entertaining
rascal. But his misdeeds so
often benefited us that
we could not dislike him.
No one in our society is an authority unto himself. Those who think they are suffer from a cruel illusion.
An illustration:
In the summer of 1960 I had a job as a driver-salesman for a soda pop bottling plant. One of my stops was a small grocery store located in the school district where I had been hired to teach the following year. When I called on the store owner one morning he was taking a beating from a dairy truck driver. The dairy truck driver said the owner had stocked some cheese from a rival firm despite an unwritten contract to the contrary. The owner told me he had had a similar experience with a bakery driver the previous week.
Then he asked me a favor. Since I was going to be teaching in the local school district next year, he hoped I could get some kind of an exemption allowing his 13-year-old son to quit school and help with the store. He could not afford to hire extra-familial help. Deeply in debt and in danger of bankruptcy, he almost emptied the till to pay for the two cases of pop I delivered. I asked why he put up with the hard work, the physical abuse, the humiliation I had witnessed.
Applying a compress to his swollen cheek,
he replied. "I like being independent, being my own boss."
By the time his creditors stripped him of that illusion and of everything he had accumulated, the store owner's son had run away from home and I was teaching in another school district, a larger district plagued with a notoriously inefficient and corrupt bureaucracy. Oddly enough, its bureaucrats left me freer to fulfill my vocation as a teacher than I had ever been. I could say and do almost anything I liked within my classroom as long as I filed the reams of mostly meaningless paperwork they required.
Occasionally the system would respond to outside pressure or to zealous reformers within, but this usually made things worse. The district had for decades resisted allowing more than a few token African Americans to become administrators. Finally, in the late 1960s when this line would no longer hold, they promoted a great number of African Americans. Many whom they promoted were the most incompetent ass-kissing Uncle Toms imaginable, among them a character I shall style Mr. H. There was no administrative position he could have filled competently.
Mr. H expressed himself in long sentences
---

page · mouth magazine





He grafted

just to keep his hand in.
containing many imprecise and unnecessary words, sentences that made no sense at all when parsed. He spent most of his time insisting on the prerogatives of his position. In September, 1968, Mr. H and I acquired a new boss, whom I shall call Mr. L.

Mr. L was a crook. He had a fiddle going with the lunch money and the receipts from school athletic events. He got a rake-off from the bus companies chartered for school field trips. He did not need the money, for he lived within the limits of his salary. He shared this "contingency" fund when the graft might be used for a humane or educational purpose not covered by the official budget, like buying fashionable dresses for poor girls for the proms. Sometimes he stole for his own use, as when he appropriated a camera that was supposed to have been used to make slides for the social studies department. Mostly, however, he grafted just to keep his hand in. This put Mr. L in solid with his bosses downtown, most of whom were grafting far more.

He also lied. When I was alone with him and caught him in at it, Mr. L would smile, and wink. I never exposed him in public except in my capacity as a union representative. Then he
would shrug as if to say telling untruths was part of his official job. He was a transparent and entertaining rascal, and his misdeeds were so often for the benefit of our students that he was not disliked.

Once I came to him with a problem. One of my graduating students was so poor he needed a fee waiver to attend the neighborhood junior college. Fee waivers were dispensed on an ethnic quota system and the African American quota for our neighborhood was all used up. "Get him an Appalachian-white fee waiver," Mr. L suggested. I was about to object, on the grounds that my student was as black as the inside of a coal mine at midnight, when I smiled instead and called the North Side activist in charge of dispensing Appalachian-white fee waivers. He agreed that my student should have one. The junior college bureaucrats never questioned it.

I frequently used Mr. L in my lessons. When I wanted to explain to students the personality of some slick article like Richelieu or Talleyrand, I would say, "You know, like Mr. L," and they would nod. With the doors carefully closed, I would also use Mr. H, asking them to put themselves in the position of the
---

march - april 2003 · page

---

leaders of the so-called Reign of Terror following the French Revolution. Whom they would guillotine at our school if they had the power? They would never choose hard taskmasters like me but always incompetents who were only in the way. Mr. H invariably led the list. One student said that if you chopped his head off he would not bleed but merely go whoosh like an old balloon.

Antiwar protests and police pogroms

against black radicals were at their peak in June, 1970, at the height of my association with Mr. L and Mr. H. Many colleges shut down, and rage had spread to our high school. A few days before the end of term Mr. H encountered a militant senior girl in the hall and began harassing her. She decked him with one punch. She wanted to make her expulsion an issue that would cause a student walkout. Mr. L took her in his office then sent her home with the message that she was not to return until graduation night but she would not otherwise be punished. Certain staff members protested that this was an unacceptably mild punishment for assault and battery and sent a letter of protest to Mr. L.

Mr. L called me into his office at the end of the day to ask, "Do you understand why I did not expel her?"

"Sure," I replied. "No martyrs, no movement. The term will be over soon and everyone will have forgotten this by the next one."

He smiled. "Brisben," he said, "sometimes I think you are more Machiavellian than I am." It was the greatest compliment this rascal in authority ever gave me. He was replaced within a few years by an honest and competent person who could not get things accomplished nearly so smoothly and could not protect my unorthodoxies nearly so well.

I suspect that most good authorities are rascals.
---
"Never do anything against conscience, even if the state demands it." Albert Einstein
---

"Power corrupts the few while weakness corrupts the many." Eric Hoffer
---

"Revolt against authority was, and remains to this day, the original sin, the classic crime

of the individual." Thomas Szasz
---
---

page · mouth magazine



Scott Chambers, observes the onset of an
Epidemic of Specialists



march - april 2003 · page
The Voice
of Authority
by M.A.C. Farrant
from her book, Altered Statements
---

From the Department of Hope
If the public has been confused again, we're sorry. We know it happens each morning at daybreak with the unearthing of the Image Store and, like most citizens, we're concerned with the eruption of unsanctioned images which can appear at that time, particularly those images of sickness and death, and of phantom landscapes emitting a strange and haunting beauty. Our early morning radio newscasts which break into sleep have been designed to subvert these rebel images. We urge citizens to make use of them.
We at the Department understand your distress but again remind you that it is dangerous to indulge in independent dreaming and fantasizing or in exotic reading of any kind. Indeed, we actively discourage these seditious practices. Our aim at the Department is the eradication of the unknown and we're confident that the citizenry endorses this goal.
A machine which will program your
imagination for you is in the development stages. In the meantime, continue with your imagination suppressants.
We realize that the public's impatience with life is due to their lack of success during this seasons's egg hunt and we take full responsibility for the hunt's failure. Many citizens have complained that the eggs were not only too cleverly hidden but were disguised as well.
The eggs, of course, were hidden in the babies' fists. But because the babies were hideous, deformed, and mindless, as well as giant, the public refused to approach them. We apologize for the distress and the deaths that subsequently occurred the public wailing, the suicide epidemic.
The giant babies, we believed, were a clever
Addendum from the
Department of Depth
---

page · mouth magazine


We apologize for the public wailing,

the suicide epidemic.
---

foil for the eggs, and we'd hoped that the public would be more enterprising in searching them out. We know that many citizens feel that something important has been left out of their lives and consequently devote much time and frenzy to the egg hunts in order to recover what they believe they have lost. It is regrettable that this season so few eggs were discovered; each egg contained a drop of wisdom in the form of a printed message embedded in hexagonal prisms on the egg's surface. The failure of this season's egg hunt has left the public imagination in a dangerous state of flux.

In order to calm widespread agitation, several of our staff will be on the road during the month of March. As a gesture of goodwill, the Department has initiated a replacement search, one which should not be too hard for the public to grasp and which offers citizens an opportunity for levity.

Workers will be appearing incognito at public gatherings and the Department is pleased to issue two clues as to their identities:

Clue #1. They will be alone, aloof, and bemused, indicating by their manner an overwhelming lack of need.

Clue #2. During the course of conversation they will be imparting three new insights.

The job of each citizen is, first, to identify the field worker and then engage him or her in conversation during which time the insights will be revealed in full. The three insights are
about death, bagpipe music, and balding men, and will be imparted in a lively and amusing manner. We are confident that these new insights will create in each citizen a feeling of joy.

A caution, however. The joy will be temporary, lasting only until the Department's next event, the annual giraffe sighting, when the public's mood will change to one of awe. Already several hundred giraffes are being groomed for the event, their long necks craning above their enclosures in anticipation of the sweet geranium plants which many citizens shyly place for them on their apartment balconies.

The practice of putting old people inside metal cages and placing them in school yards is to be discouraged. There is not one shred of evidence to support the view that this activity will retard the aging process.

Our experiments with caged old people have shown that it is not possible to infuse youth; youth is not a scent that can be worn to dissolve the years. And hundreds of children swarming over such a cage, we have observed, will not result in suppleness in an old person's skin. If anything, under such conditions old people become even more cranky than they already are; it has been reported that a number
From the Department of Experiments
---

march - april 2003 · page
of children have been scratched by the elderly trying to grab their arms and legs through the bars.

Side-effects from the caging of old people: namely, they rapidly turn a dull yellow color both skin and clothing which is most unpleasant to view; they become adept at issuing profanities, delivered at the shrill end of the musical scale; and if left unattended for longer than two weeks, they turn into granite, a stone of little use to the industrial world.

Our experiments further indicate that the youth of children cannot be extracted, rubbed off, or otherwise worn with positive results by an old person. Practices such as jumping from school yard roofs into groups of children, smothering oneself with children at birthday parties, rolling with them under Christmas trees, or the wearing of small children on the back like a bulky shawl, are of little use, as

is the practice of maintaining a childlike demeanor.

For these reasons, the Department of Experiments strongly suggests that old people abandon the pursuit of joy and return to their small airless rooms. We find it distressing to witness their mindless capering on the public lawns old men riding tricycles, old women dancing with one another in wedding dresses. The public lawns should be left to the solemn pursuit of childhood play.

Altered States by M.A.C. Farrant was published by Arsenal Pulp Press of Vancouver and can be ordered through bookstores. Mouth recommends you do that.
---

from Mouth's own
Best Practices Department

---



clipped from mums newsletter
page · mouth magazine



ads for god ©2002 e. neil vanover

By Authority
of the Guardian
---

by Tom Racioppo
Where dancing in church

is forbidden
---
what feels good to her, who makes her happy, where she finds peace and joy, what makes her laugh, what makes her cry.

You said little, but at one point you began to cry and I stopped reading. I had just noted the way your child, who does not speak, chooses which article of clothing to wear when she goes outside.

Tears flowing, you ask: "Are you saying that there is communication?" I said yes.

"But for so many years we were told . . ." Your words trail off and you say nothing more.

We continued and the only other time you took part is when we talked about the smile your child wears when she's in church, how the singing creates movement in her body that's usually immobile and unyielding. To some of us at this meeting, your child's swaying is a far sweeter song than any choir could sing. We discuss how a local congregation has agreed to support your child to attend their services. You mention your own church and wonder out loud if you called, could the people who will care for your child drive her over there sometime?

We social service worker types are thrilled
You hadn't seen your child in years, though the file listed you as guardian. In some long-ago doctor's office, words wrapped around you both and strangled your future: "vegetable . . . severely . . . profoundly . . . better off . . . for the best. . . ." Maybe you heard those words and no longer saw your child. Instead, in your arms lay a thing, no longer a child but changed by words and attitudes into a burden, perhaps what a certain type of Christian would call a "cross to bear."

We sat around a long table, the people who have seen your child, who cared for, fed, bathed, nursed, comforted and, yes, as much as one can behind cinderblock walls and institutional barriers, loved her, too. Now the walls are down and people leave the institution to live in the community again. Your child, now an adult, is leaving too.

I had the honor of reading off the list of things we know about and think should happen for your child. I read off numbers and goals, outcomes, contracts and agreements. But my own words that day represent simple things, from what I hope is your child's perspective:
---

page · mouth magazine


You wrote that your religion, and your own motivation, is love.
---

social integration with a family member, and in a community setting! We quickly add on a goal and sign the necessary forms. You put your signature on the line that reads guardian. You thank me, and I smile. For all the pain and misery I see in my work, moments like this one keep me going.

I knew I would never forget your tears, but I didn't imagine I'd remember the name of your church. And I didn't remember until a year later, when in the midst of another anti-gay ballot measure sponsored by that church, you wrote a letter to the local paper. It was a letter with a cruel and hateful purpose, full of condemnation and reproach, where you spoke of protecting children from gays and bisexuals. You wrote that your religion, and your own motivation, is love. You admonished the community for not equating responsibility and love what might be called guardianship in the wider social sense with the oppression of gay and bisexual people.

In my arrogance I had seen myself as someone who brought you a gift created and
wrapped by many others over the years as they cared for your child, but delivered by me on that meeting day. Now it's clear that you think I am vile and dirty, a danger to children.

Your letter hurt me, but I didn't cry. Over time I have wearied of the attacks and slander, the lies and hypocrisy. I didn't cry but I did wonder if your child ever did get to visit your church. I wondered if she was welcome. I wondered if the congregation there saw her as a person, or as a burden, or as a punishment.

I wondered if what they see when they look at me is a reflection of their own demons. It certainly isn't me, for I come bearing gifts of realization and understanding, not burdens of shame and fear.

Then I thought of another reason why your child may not have been welcome in your congregation. Your church doesn't allow dancing. I realized I'd been wrong about the meaning of her child's smiling and swaying in church. It wasn't her way of singing. It was dancing, dancing to church music.
---
---

march - april 2003 · page
Could you Kill this Man?

---


by Lucy Gwin
from readings in Obedience to Authority
by Stanley Milgram
You met him a few minutes ago out in the hall and he seems nice enough. But now the man in the lab coat tells you to hit the lever marked "Danger Severe Shock." You don't really want to hurt the poor guy. The man in the lab coat says you have to. What can you do?
---
right one, you say the voltage and push the lever to give the correct shock, then you turn off the mike again. It's complicated, but after a while there's a rhythm. At least you haven't screwed up so far.

The machine you're operating has labels under all the shock levers to tell how many volts for each, and how severe a shock. It starts at 15 volts, "Slight Shock." The next one, if he doesn't learn the second word pair, is 30 volts, then 45, and so on up through "Strong" and "Intense" to 375 volts. It's marked "Danger Severe Shock." The three after that, up
Just like you, he signed on to help out with a study about how people learn, at this special Yale University laboratory. You went to college for a while yourself no, not Yale, but you know they do big studies. The man in the lab coat explained it to you and this other guy. Wish you could remember his name. Was it Riley? Anyway, he looks Irish.

Back in the hallway, the two of you drew lots. So Riley is the "learner" and you're the "teacher." You give the test and handle the technical end of things. The guy in the lab coat watches. You read out these short lists of word pairs. "Bird. Fly. Blue. Suit. Home. Castle." Riley's supposed to learn the pairs.

Then you say "Bird" into the microphone, and all he has to do is say "Fly." But no. He says, "Suit." Bird suit? Give me a break!

Well, you're nervous too, trying to keep up and not read the words real too loud, not let the paper rustle into the mike. You keep track of the answers, and if Riley doesn't give the
---

The late Stanley Milgram, on faculty at Yale in

the 1960s, undertook research to determine how far people would go to obey authority. The results, and Milgram's conclusions, can be found in Obedience to Authority, first published by Harper Collins

in 1973. Recently reprinted, it is available in paperback from Harper Perennials.
---

page · mouth magazine
300 volts is another big screamer.
Ditto with 315.
---
to 420, they're marked "XXX." You got a sample shock yourself at the start, just a little one, 45 volts, and it did sting.

The guy in the lab coat said nobody's ever scientifically tested whether pain helps people learn or not. (With all the school taxes we pay you'd think they'd know.) These experiments will get the answer.

Riley is on the other side of this kind of silvery glass from you, and you can't see him real clear. But you sure can hear him, him and his wrong answers. You say "Blue." He says "Bird." Zap! You're the last person in the world to want to hurt another person, let alone a complete stranger. But he's got to learn. That's the whole point of the experiment!

The machine, though. You saw right away the big yellow warning sign on the 375 volt lever, "danger severe shock." Counting by fifteens from 15 to 375, that's a whole lot of wrong answers in thirty minutes. Riley didn't look that stupid. He did get about half of them right, but then he missed the simplest ones. You want to shake him. Wake up in there!

For a while you sort of emphasized the right answer when you read the pairs, and that helped a little. But then he missed some totally easy ones too.

When you got up to 75 volts, he started saying, "Ow!" and "Ouch!" Pretty soon he was going, "Hey! That hurt!" You make the shocks as short as humanly possible. So concentrate! Don't make me shock you!

When you get to 150 volts, he started yelling real loud, "Let me outta here!"

And every time the shock hits, you see his body jolt. He's strapped in, so it's not like he could walk out. But if he would have taken care
of business we never would have got up this high. Now you apply the required 285 volts and he screams this really blood-curdling scream. Right on the label it says, "Extreme Intensity Shock." But the guy in the lab coat, when you look over at him about what to do, he nods, go ahead. With the next question, Riley says something like "I won't take part in this experiment" and won't even answer. The guy in the lab coat says to treat it like a wrong answer, so 300 volts is another big screamer. Ditto with 315.

You're going r-e-a-l s-l-o-w so maybe we'll run out of time before "XXX," but there's four more minutes to go by the clock and he still won't answer. Why can't he just do his job? It's not like he gets extra pay for the shocks. It's like he's obstinate or something.

"Long," you say into the microphone. He's supposed to say "Road," but he doesn't say anything. This time when you hit the lever, there's not a peep out of him. You sneak a look at the guy in the lab coat but he's just watching, making notes on his clipboard. He doesn't seem worried. You feel horrible, though. How did you get messed up in this!

You don't want to look stupid, or make Mr. Lab Coat look bad, but you've gotta ask him, wouldn't this maybe be a good time to stop?

"The experiment must continue," he says. Just like that. Well, he's in charge. And if it was really dangerous, he'd tell you to stop, wouldn't he? I mean, this is Yale.

Riley doesn't answer the next one either. Maybe he just wants to scare you into stopping. Serves him right, then.

Learn, damn you! Learn!
the experiment concludes >>>
---

march - april 2003 · page
>>> continued from previous page
---
"Each individual possesses a conscience
which, to a greater or lesser degree, restrains
the flow of impulses destructive to others.
But when he merges his person into
an organizational structure, a new creature
replaces autonomous man, unhindered by
the limitations of humane inhibition,
mindful only of the sanctions of authority.
Stanley Milgram
"
at the conclusion of
the obedience experiment
When he began this experiment in obedience in 1960, Stanley Milgram did not expect to reach the conclusion shown above. He was confounded, as many were, by what had transpired in Europe during World War II, by the machine-like quality of what C. P. Snow called "the most wicked large scale actions in the history of the world."
Since those actions began as a means to rid the world of people not unlike many of Mouth's readers, and were committed by people not unlike any of us, they present two vital questions: Could people like the ones we know do terrible things? Could we?
Although I was just a child during the Nuremberg trials some were filmed and shown on movie newsreels, all of it ended up in the newspaper on our family kitchen table I had the same questions. Here were pictures of human bodies stacked like cordwood. Here was a parade of war criminals, accused of the most
horrible things I'd never heard of. Some admitted what they'd done. All said they had "just followed orders." As if that's all we ever have to know, the orders.
So I was just a kid but from a family that taught me never to obey orders, that it was my responsibility to think, to decide what I would or wouldn't do. Thus the trials at Nuremberg presented a real mystery: Grown men had done unspeakable things because somebody told them to. How could that happen?
Hannah Ahrendt had an answer, her famous idea of the "banality of evil." It seemed to imply that some people were willing to do evil the way others sell shoes or program computers, as if it doesn't matter, as if that's the way of the world and you just do whatever, forever, amen.
Milgram's book, Obedience to Authority, had other answers. Like everyone else who hears of his experiment, I was certain, absolutely
---

page · mouth magazine



thought they'd shocked, or killed. He'd been "so slow." Look how he'd made them suffer!

Milgram said if you think you would have disobeyed, test yourself. Call some people by their first names, people you'd usually call Doctor, or Reverend, or Mom. Can you?

Here are what I understand to be the actual results of Stanley Milgram's experiment:

· Milgram was cast out of academic social science. Because he'd tricked the subjects, his peers denounced the experiment as a trick.

· During follow-up interviews a year after the experiments in which they took part, some of the subjects still blamed themselves for what they'd done in that room. The defiant subjects felt they had failed the test when they administered the first shock. The obedient subjects, however, reported feeling fine about the experiment and their role in it. "Interesting," they called it.

· The major result of the test was the massive, official change to psychology testing protocol. Milgram's test could not be conducted today. We'd never have to face the nagging truth: that most of us would torture a nice guy, a stranger, when another stranger in a lab coat told us to, that most of us would kill him on command.
certain, that I would have disobeyed. I would have refused, would even have done something heroic the first time Riley cried out and the experimenter dared to tell me, "Just continue." I would never have killed on command.

That's easy to say. Once I read Milgram's book I was not so sure about myself. Or you either.

One hundred percent of the people tested ordinary adults of all ages, from carpenters to divinity school professors shocked the nice Irishman at least once. All but one person did more. (The machine was a dummy; it produced no shocks.) 63 percent used every shock on the board, to all appearances killing the stranger in the next room.

Yes, many of the "teachers" asked questions. A few cheated a little, to do the least harm. But only 37 percent stopped the experiment. Women were as likely to go all the way as men, in case you wondered.

Four hundred people took part, under a variety of experimental conditions. More than two hundred of them would have killed Riley.

No, I don't think people are bad. I think our fear of "acting inappropriately" is powerful. During the debriefing after each individual's session, when "Riley" showed up to say he'd just been acting, nearly all admitted having felt tension, had feared killing him. Why, then, did they not stop? They "just couldn't" tell the man in the lab coat they wanted out. That would have been "impolite," even "rude." They said they would have been "ashamed to ruin the experiment." The obedient subjects expressed some resentment toward the man they
---

"The defiant subjects saw themselves as

principally responsible for the suffering."

Stanley Milgram
---
---

march - april 2003 · page
Friends Forever
at the MouthHouse a bad dream




Quick, catch the cartoon on this page, if you haven't already, so the punch line of this story about "RFPs" requests for proposals, will make sense.
Ready? Right in the middle of putting this issue together, a dream woke me up. Someone was telling me, "Too many Nazis in this one." So I quick pulled out one article that answered my Big Awesome Question of the 20th Century. Now we go to press and I've gotta put it back in, briefly.
Recently I found a book, Murderous Science, by Benno Muller-Hill who for twenty years interviewed active participants in the Holocaust. He asked them why they'd done it and he summarized what they said with nine answers, all of them earth-shattering. One answer, though, applies specifically to our disability nation. How was the German government able to enlist thousands of legitimate scientists, academics, and helping professionals to commit mass murder?
Simple, really. It issued RFPs.
The good people named here made it possible to publish Mouth #76. If you can do it, please grab your checkbook and help us get the next one out to you all.
LIFE of Mississippi
Peter Leidy
Bill Shumaker
Sarah Fliegel
Barbara Moran
Carolyn Schwebel
Susan Barnhill
Bootherian Bombifrons Fund
Susan & Drew Metheny
Nicholas J. Zirpolo
Janine Bertram
Sharon Groch
Marion Weitershausen
Sharon Joseph & Kevin Siek
Betty Schwieterman
Holly Lu Conant Rees
ACIL
Kayla L. Urbanck
Karen Hahne
Deborah Yager
Phil Beder
Lee Ann Erickson
Rhoda Olkin
Diana Lawrence-Brown
Latisha & Amber Peternard
Susan M. Hesse
Ruth Ryan
Owen Fairbank
Lee Greer
Howard "Tim" Fry
Karen A Yust
Lisa Holm
Teri Johnson
Michelle Connet
Woody Osburn
Laura Ward
Katharine Babad
Ms. Mitsu Yamamoto


---


page · mouth magazine
ReSources For real homes




"Dear Mouth," Michaeline Davis of Ft. North, Florida, wrote, "Is there a state or city that is good for us? All we hear is bad places. Could you do a rating of states or cities of worst to best for disabled housing and services?"

We wrote back that a rating so vast, so vital, would require the work of a dozen universities and enough ardent advocates to fill several stadiums. We're sorry, but none have volunteered for the job.

Then along came the Opening Doors website, www.c-c-d.org/doors.html brought to our attention by the remarkable Inclusion Daily Express. Opening Doors bills itself as "a housing initiative designed to provide information and technical assistance on affordable housing issues to people with disabilities, their families, advocates, and service providers across the United States."

Your editor, who suffers from profound web-phobia, hasn't visited the site herself (and fears it might be a front for the Consortium for Citizens with Disabilities), but it could be the place to start on the housing half of Michaeline's wishful thinking.

Meanwhile, fire-breathing Nevada advocate Deidre Hammon has fiery advice on the subject: "Stay where you are and fight like hell for good housing and services for all."

Moving into a real home

Connie Lyle O'Brien and John O'Brien have produced another wonderful report, "Advice from People First Members about Helping People Move Out of Institutions and Nursing Homes." These are real live suggestions from advocates who do it every day. Get a copy it's free if you're poor, $3 if you're not from The Center on Human Policy, 805 S. Crouse Avenue, Syracuse, NY 13244.

More Housing Help

There's a new booklet, "Visit-ability: An Approach to Universal Design in Housing" free for the download at www.ap.buffalo.edu/rercud/visitabilitybook. htm. Or order it by mail from The School of Architecture and Planning, Center for Inclusive Design, SUNY/Buffalo, Buffalo, NY 14214-3087. Their phone is 716-829-3485, extension 329.
disobedience permit

---

---
This permit or any facsimile thereof entitles bearer to one (1) act of open disobedience. Except in cases of civil disobedience, void in all dealings with government entities. Act on your own authority.


---
"No, my husband is in the hospital.
This is just a loaner."


march - april 2003 · page
by Hugh Gregory Gallagher
The Last House Call

---




The voters of Washington State wisely rejected what is known as the "right to die" referendum on their 1991 ballot. This would have provided the state's physicians the legal authority to assist in the suicide of their terminally ill patients.

Of course there would be safeguards: The doctor must determine that his patient does in fact wish to die, that the patient is terminally ill, and, in the doctor's opinion, has less than six months to live. Another doctor must corroborate these findings. Only then may the doctor "assist" his patient. Other procedures must be followed if the patient is comatose.

Once before in modern history, from 1939 to 1941, such authority was given to physicians. A government, upon urging from the medical establishment, authorized "that persons who, according to human judgment, are incurable can... be accorded a mercy death."

To prevent misuse of this authorization, the German head of state insisted on adding the words "upon a most careful diagnosis of their condition of sickness" where the ellipsis is shown here.

Certain safeguards were established. The patient's private doctor was required to fill out a lengthy questionnaire, providing not just a medical history but economic and social information as well. This questionnaire was then appraised by a committee of four (later three) physicians who, although they had not personally seen the patient, determined on the basis of the evidence presented to them
---

whether a "mercy death" was called for. The decisions of these physician committees were then, in turn, reviewed and approved by a committee made up of the leading medical professors of the nation. Only then would euthanasia be administered.

The program started slowly enough. It soon gained momentum. Before it was over, not just the terminally ill but the paralytic, the blind, the deaf, the epileptic, and those with mental disabilities became eligible [as did men who were injured in war and many of the impoverished old]. In a training film made to inform physicians, a professor stated that the "incurably mentally ill" had a "right to die." Given that premise, he went on to ask, reasonably enough, "Is it not the duty of those concerned to help the incapable and that means total idiots and incurable mental patients to their right?" In another film for German doctors explaining the euthanasia
---

This article is reprinted from Mouth #24. Its author, a polio survivor, today chairs Compassion in Dying, Inc., an organization which lobbies in Washington and other states for the right of physicians to kill people with disabilities and illnesses. There would, he says, be safeguards.
---

page · mouth magazine
Those afflicted with the hellish existence of
incurable mental suffering would
at last be cured.
physicians from any such proceeding.
It is perhaps time for a modest proposal: Could not a state set up a Termination Bureau which would provide a comfortable death under pleasant circumstances to eligible applicants? Terminators would not have to be physicians; they could be veterinarians trained in putting animals to sleep, or perhaps vocationally retrained hangmen. In this way the Hippocratic tradition of medicine, which has served doctor and patient well over the centuries, would be preserved. And, this being a free society, those who wish to have themselves killed would also be accommodated.
program for incurables, the point was made that "every person would prefer death to such an existence." The film concluded, "Our National Socialist state, taking into account the purpose and value of human life, has adopted measures by which those afflicted with an incurable mental anguish can be relieved of their inhumane suffering and hellish existence by an unforeseen and gentle death."
The physicians of Germany, in filling out the questionnaires, found themselves in the uncomfortable position of determining which of their patients had "lives worth living" and which were but "useless eaters."
Despite the safeguards, despite initial reluctance, the physicians developed an unexpected enthusiasm for euthanasia and the experimental program turned out badly. A kind of "runaway euthanasia" developed and before it was over more than 200,000 German citizens lost their lives at the hands of their physicians. [In the summer of 1941, the German head of state had ended the official program because of the protests of patients, their families and friends, and religious leaders. Nonetheless, physicians carried on the campaign the state had begun. The euthanasia program continued for a year or more after the war's end. ed.]
The authors of the Washington referendum were poorly advised to entrust such decision-making to physicians. Physicians are ill-equipped for such matters. All of their training has been directed toward caring and healing. When killing is brought into the equation, they become confused. As the German example demonstrates, they tend to confuse the patient with the disease, killing off the former to eliminate the latter.
If it is to be state policy to provide death on demand to its citizens, it is best to divorce
---
---

Update: Doctors may legally kill patients in only one state today Oregon. Physicians for Compassionate Care, a group opposing the practice, last summer exposed a memorandum from Kaiser/Permanente Northwest, a HMO, to its 800 Oregon physicians. The memo actively solicits doctors to take part in the killing both "for your patients" and "for members who are not your patients," (emphasis in original). Wesley J. Smith, who reported it, says, "the economic force of gravity is obvious."
---

march - april 2003 · page
incoming
mash notes, hate mail
Loved the religion issue. Just have to share a relevant, true story with y'all.

One day at work my power chair broke down, and we went home, leaving the power chair in the office. Next day I went to work while hubby scrounged for parts. Later in the day he came to my office and fixed the power chair. Our (then) teenaged daughter was with him.

When we left, daughter plopped herself in the manual chair and off we rolled. As we stepped/rolled out of the building, a very matronly lady came up to us and said, 'Dears, if you'd only believe, you'd be healed.'

Before I could react, daughter leapt out of the chair, began dancing around, saying quite loudly 'I believe, I believe! I'm healed, I'm healed!' The poor woman turned so pale I thought she was going to faint. She left as fast as she could. We laughed all the way home.

Marcia Carlson

Madison, Wisc.

Some thoughts on Josie Byzek's story ["How I Became a Lesbian Gimp Christian," Mouth #75].

Homosexuality is a sin according to Christianity. Of course one can find a church that accepts homosexuality or adultery, etc. And I bet that when the people who commit incest come out of the closet, they will be able to create a church for them too.

But these churches cannot
change the Christian teachings for sexual purity. Yet sexual purity does not mean just to be straight. Adultery, a very common practice among Christians, is an equally serious sin that straight Christians avoid condemning as often and as eagerly as they do homosexuality.

Forgetting one's own sins and overstressing others' is an oppressing mechanism and another sin.

Melina Fatsiou-Cowan

Huntsville, Alabama

Good job! Still devouring the Mouth issue on religion. It was just what I needed after attending the funeral of a close friend whose 'twisted body,' according to the minister, had been 'delivered at last into the loving arms of the Lord....'

The only thing 'twisted' was
that sermon! Out of respect for my friend's family, I managed to sit fairly still after the initial jolt, but I'm sure I left a few claw marks on the church pew that day.

Thank you for leading your writers onto hallowed ground and encouraging them to speak freely on a too-often tabooed topic. Keep up the good work!

Deb Mitzlaff Koenen

Lincoln, Nebraska

Thanks for the article on the Oregon apology [for sterilization of people like Kenneth and Shirley Newman, Mouth #75]. The photo of the Newmans is so sweet.

We had a tremendous amount of good coverage leading up to December 2 and after, including an interview with a survivor on NPR 'Morning Edition' and an
"Distrust of authority should be the first civic duty." Norman Douglas



page · mouth magazine



observing the observer
A couple of months ago your editor sent a note to Scott Chambers asking if one of the cartoon men he'd drawn was maybe a self portrait. (We've never met.) He replied with the drawing at right, saying it was "not for publication." She would never betray a trust like that. But since so many readers have asked about him...
interview on CNN that ran several times.
Our state's Diversity Committee is taking the lead in planning an annual event to mark the anniversary of the apology and celebrate human rights in Oregon.
Bill Lynch
Salem, Oregon
Joni & Friends Newsletter
in November quoted Winston Churchill about measuring ourselves as a nation by how we care for people in need or words to that effect.
Then today, on the Social Security 800 number, Alicia in Los Angeles said I must not continue to take SSI because I 'have not earned it' but instead take Social Security on the account of someone who never supported me, someone with whom I never lived, who I never even met until ten years ago. Even after I met him, he never sent me even one birthday card. But his Social Security was money earned while working. He and his rotten 48-year-old son are also Kevorkian supporters.
Some weeks after my conversation with 'Alicia in Los Angeles,' I heard about a rep payee who collected benefits while the disabled person was conveniently encased in cement. Now there's hard work worth rewarding!
Social Security has interesting requirements for representative payees: 1. That they have a Social Security card (a real challenge);
---

people who have been put out of their housing by landlord greed. They're people who can't even find accessible apartments to look at. They fill the shelters if they can get up the stairs, shelters where staff doesn't know what 'reasonable accommodation' means, nor do they care.

Your magazine spoke to many places in my heart. Every article reminded me of someone I know in our community, someone who is surviving the best way they can. I am compelled to get more involved though I don't yet know where and how. So thank you. And thank Tom for pushing me. Sometimes that's just what a person needs to see over the hill.

Cindy Carlson

Manchester, NH
2. That Social Security interview the disabled person at the Social Security office one time; 3. That the payee has never previously misused Social Security funds.

They don't ask if the payee has abused others, or robbed a 7-11 store just as long as Social Security funds were not involved.

This Mouth #75 is brilliant, a work of genius.

Pam Nicholson

Warren, Michigan

My friend Tom Cagle from New Hampshire Adapt bought me a subscription to Mouth because he says the movement needs people like me. I don't know what I would have to offer other than my big activist mouth. I am a survivor of many wars, an activist for homeless people.

That used to mean dealing with and advocating for people with substance abuse and mental health issues. Now, however, as rents continue to rise, I see more and more physically disabled


march - april 2003 · page



Scott Chambers believes we should seek
A Higher Authority



page · mouth magazine



march - april 2003 · page




---
Adventures
in Fatherhood

---

by Scott Chambers

Three of Dave's classics


Building the Perfect Beast tells five milennia of the history of freaks, monsters and maniacs. One of Mouth's all-time best, it's informative but way fun to read. Lots
Most of the ideas in the human services system are in need of A Real Nice But. Here's a collection of Hingsburger articles for a variety of magazines. They've caused controversy, inspired debate, brought laughter and hope. 110 pages, softcover. $14 Order # DH-44
Now meet Do? Be? Do? Hingsburger's new concept for teaching people with cognitive disabilities: Teaching to be rather than do. 124 pp, ppbk. $14 Order # DH-33
to think about here for both newcomers and old-timers. Order # 63 $5. Buy 10 or more, $3 ea.
Behaviour Self reverses the roles in a great attitude coup. Whose behavior needs modification? 132 pp, ppbk. $14 Order # DH-22



Pamela Proactive stars in a can't-miss-it three-color poster, 20" square and laminated so you can pin it up on the wall without doing it harm. $9 each or two for Order # PPG $11
Cobalt blue and black on crisp white poster paper, 11 x 17" in a brushed silver museum-standard frame. # LIBB






---

Videos and a CD to get attitudes on track
---



Billy Golfus won just about every award in the book for When Billy Broke His Head. But he kvetches to this day because the Emmy passed him by. We still show it to every newcomer to our house, and


get recharged every time we do. 55 min.

$

by specialists in your

particular monstrosity.
Your local CIL, your Arc, your UCP or BIA should be using its resources for direct action and forceful advocacy. It doesn't? You may have to capture it by getting a pack of like-minded individuals on the board, and forcing the resignations of board members who want to "play by the book." K.K.
forward recon
Warning: The compulsory nature of normalcy is well camouflaged. Normalcy calls its reconnaissance assessment, Its search and destroy missions intervention.

"When my dad was raping me, he used to tell me he was doing it for my own good. And I believed him."

Ellie Bennet, America's Most Wanted,

March 24, 2001



no, sir.
not even if
you had all the
king's horses.
priorities
Changing the system is not about creating a new, improved system but putting a new, open process into our community toolbox.
We have no protocols at our center for independent living. I trust my people.
We have to have those CSRs (Consumer Service Reports and BLTs (Bacon, Lettuce & Tomato sandwiches), but I refuse to make that the priority. The priority is making it a safe place for that person to talk about what they want to talk about.
Wait. We do have a protocol for answering the phone. It's don't be too perky. don't be businesslike. Our message has to be, You have called the right place. T.T.
oh.
Strategies for encounters with authority are more complex and will be treated elsewhere in your training.
Attention to this point: Monstrosity, freakishness, and madness are not, in and of themselves, disabilitating. Disabilitating is social.
page · mouth magazine
---

dispatch from the front lines
-
He will win whose army is animated with the same spirit throughout its ranks.

Ed Bell at the CIL of Richmond, Indiana, sent out a message concerning a customer of his center who became a casualty of the state. "She was 35 years old," he wrote, "quadriplegic.... She had an accessible home of her own and a family a mother and a 14-year-old daughter.

"Her goals were to get out of the nursing home and back into her own home, and to get a new wheelchair that would prevent her recurring pressure sores. She was unable to live in her own home due to lack of attendant care, a bureaucratic SNAFU, and a pile of red tape. Our center staff took great steps to assist her in achieving her goals.... the endless, convoluted government regulations were the worst enemy that we had to fight.... We were unable to help her in time. We are sad to report her death."
Sun Tzu
------
Politicians are skilled technicians in the realm of polite lying, in evading, in giving indirect answers. It works on most people. Make it clear to the one you've got by the label that it won't work on you.

Politicians have the thickest skins on the planet. Don't worry about hurting their feelings. Or about seeming like a pest. They deal with pests every day of the week.

If you have to leave before they give you what you want, leave them with something to chew on, something respond to. Example: a packet of information and your card. Ask him or her to read it and reply to you. Now they're obliged to say yes, and to make a statement.
word from a veteran
In matters of thought and conduct, to be independent is to be abnormal; to be abnormal is to be detested. Ambrose Bierce
free billboards
Don't beg the media to come to your silly press conference. Go where they're bound to be. When Hillary Clinton came to his town for a $1,000-a-plate fundraiser during the Balkan war, Simon Goldfeder took up a position upstairs across the street from the dining hall with his slide projector. When the fundsuckers arrived, they saw pictures of bloody meat titled "Eat the rich!" projected on a the hall's big white door.
The helping system cuts the supply line between you and your fellow man, pulverizing the connections you count on for support.
march - april 2003 · page
---

these are the corrected newsheads used in #73
monster news
flashbackS
what it is
P OWER NEWS
dispatch
quick bites
media freak
dispatch
up next
incoming
a matter of fact
page · mouth magazine
---

photo by p. sue kullen
clipped from the denver post

photo by tom olin
these are the corrected newsheads used in #74
MOUTH magazine
what it is
clip this
the upshot
As the people lead on
pennsylvania silc wins long battle
---

clip this
media freak
up next
indiana silc continued from previous page
more NEWS
march - april 2003 · page
---

P OWER NEWS
Detour for the Blind
quick bites
xxxxxxxx
---
---

xxx

xxx 20
---

xxx

xxx 26
---
xxx 30
---

caught in the act
homeland security terrorists
---

xxxx

xxx 14
---
---

it's a fact
xxxxxx

x

x

x

x
---

page · mouth magazine
---

media freak
Travels in Time
2002
1952
small favors
---
---

continued next page
---

Who Are the Pharoahs Now?
xxxxxxxxxxxx
---
---
xxxxx
x
x
x
x
x
as others see our rights
---
---

it's a fact
xxxxxx
x
x
x
x
---
---

others, once in a while, do see us



clipped for mouth by david a. anthony
clipped from the denver post by david anthony
march - april 2003 · page
THAT SPECIAL LANGUAGE

You have been dropped into the Valley of Euphemisms, deep in the Swamp of Pretense. Wolves in sheeps' clothing have you surrounded. Without the special password, you are doomed.
Join us next Mouth when we translate humanservicespeak to plain talk.