RIGHT TO DIE ENFORCED
DEATH SENTENCE FOR THE CRIME OF DISABILITY
Clearwater, Florida
by Rus Cooper-Dowda
Terri Schindler-Schiavo forfeited her right to live when she became disabled, according to several judges, the right-to-die movement, and her own husband. On April 4 her family will go to a Florida appeals court, arguing, not for the first time, that she has a right to food and water. Since the U.S. Supreme Court has refused to hear the case, this is her last chance.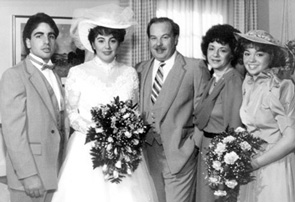 BOBBY SCHINDLER (AT LEFT) WITH HIS SISTER TERRI SCHIAVO AND HER FAMILY IN 1984 WEDDING PHOTO. TO THE RIGHT OF TERRI IS HER FATHER, BOB SCHINDLER.(photos courtesy of Robert Schindler.)
Terri's heart stopped in 1990 under mysterious circumstances. Deprived of oxygen, her brain was damaged. The resulting $700,000 medical malpractice award was meant to provide care and therapy for the rest of her natural life. Instead, her husband Michael Schiavo, with the support of right-to-die attorneys and physicians, is using those funds in legal battles to have her killed. Living with another woman now, he will inherit when she dies.
Terri survived three days without food and water after one court order. Her family's quick legal work headed off that death sentence and earlier this year won a postponement of her most recent execution date, January 3, until April 4.
Hired experts call her videotaped responses to doctors and to her family "involuntary subcortical movement." Courts have, after such testimony, twice ordered her death by dehydration and starvation.
A Hospice to call Home
Terri lives in a hospice today where her husband forbids flowers, pictures, outings, or more than a few selected visitors. Her primary care physician admits to seeing her only about four times a year for about ten minutes at a time. When asked in court why she's been sent to live in a hospice, her doctor said he didn't know since she is not terminally ill.
Her husband has forbidden antibiotics. She could sit up in a wheelchair if he would allow her to have one. She has not had her teeth cleaned, an OB/GYN appointment, or physical or occupational therapy in years. After her injury she was able to speak, but has had no speech therapy and now cannot. Her inability to speak is used against her in court.

Her brother Robert has established a website at http://www.terrisfight.org. Her parents, Bob and Mary Schindler, welcome your visit to that site and your support for her fight to stay alive.