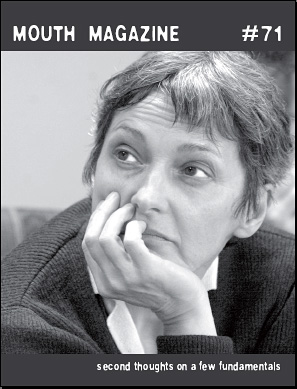 SECOND THOUGHTS ON A FEW FUNDAMENTALS.

volume 13 number 1 may/june 2002.

---
To keep Mouthmag.Com all up-to-date, we'd need to hire a team of web professionals, and that's out of the question on Mouth's barebones budget. Yours truly must do it all. If you don't want to miss out on much incomparable Mouthiness, subscribe. Back issues are available through our Attitude Store. Should you wish back issues in alternate format — tape or large print — or to subscribe offline, call Cal at 785-272-2578, or write Mouth, PO Box 558, Topeka, KS 66601-0558.
ONE LUCKY YEAR
Calling all black cats: this issue marks the beginning of Mouth's thirteenth year, and the beginning of our reinvention too. Thanks, everybody, for sticking by us, seeing us through.
IN THIS ISSUE:
BUSH DECLARES WAR ON PSYCH SURVIVORS.
IS IT OKAY TO EXECUTE PEOPLE WHO SCORE LOW ON I.Q. TESTS? Zack rosetti says that's a trick question. His article page 16 will no doubt raise a little consciousness -- and a big stink. Where do you wieigh in? Write us a letter.
DISABILITY POLITICS: EXCLUDE THE NON-DISABLED?
TWENTY YEARS OF TEACHING A MAN TO TIE HIS SHOES.
AVALANCHE CONTINUES IN RESPONSE TO CRITIQUES OF ADAPT.
Psychoactive drugs are today named for the promises they make, not the commands. It's Zoloft not BeMorePositiveFerCryin'OutLoud. Paxil not Shuddup. But now mandatory mental health goes into effect, so watch out. See "Grief Plice," page 9. See also page 22 for a story by the enviro-mental folks who pictured the pharmaceutical shown.
REGULAR AND IRREGULAR FEATURES
Quick Bites.
Urgent Dispatch.
Dispatch from the Front.
The Grief Police.
ReSources.
Mouth House.
Avalanche.
Friends Forever.
The Attitude Catalog.
A FEW FUNDAMENTALS
M.A.C. Farrant reports on the life of Darwin Alone in the Universe.
Zach Rosetti believes that when you kill for justice You Must Kill Us All Equally.
Art Blaser discourages rumors about the death of Disability Identity Politics.
the Staff of Adbusters wants you to know that Just Because You're Not Paranoid.
Scott Chambers, investigative illustrator, asks What Really Happened to that Paperwork?
E. Neil Vanover requests that you submit The Bliss Report.
John McKnight offers some further thoughts on John Deere and the Bereavement Counsellor.

---
© CONTENTS COPYRIGHT 2002 FREE HAND PRESS, INC.
4201 SW 30th Street Topeka, Kansas 66614-3023
ISSN 1071-5657
Member of the Independent Press Association and Support Coalition. Indexed (somewhat) by the Alternative Press Index.
Editor-designer ...... Lucy Gwin
General Officer ..... Cal Grandy
Clipper............... David Anthony
Voice .............. Marcia Yaroslow
Heroes........... people who persevere in ding the right thing even when their grants run out.

Reporters, artists, photographers: We want your work but just like crime, Mouth doesn't pay. If you'd like to take part even under those wretched conditions, please mail us samples and your phone or fax number to introduce yourself.
Back issues: $4 and up, cheaper by the dozens for trainings. Recent editions are available in quantity. To buy them, or to help keep Mouth afloat, call Cal at 785-272-2578 from 1 to 6 pm, weekdays. Do not call or email Lucy. Reach her by mail, or fax her at 785-272-7348.
| HOME | ABOUT MOUTH | SUBSCRIBE |